Dr.H.Varadaraj completed his undergraduate medical training (MBBS) and university examination in 1987.
Post-graduation training was in General Surgery and after university examinations was awarded the postgraduate degree of "Master of Surgery" (M.S) in 1992.
From 1996 onward trained further in Limerick, Ireland in Surgery/ Urology and was awarded after examinations additional postgraduate degree of "Fellow of Royal College of Surgeons" - FRCS, Ireland.

Sub-specialisation in Urology/ Urological surgery thereafter under the leading Urological Surgeons in Limerick & Dublin, Ireland. Passed the examinations and was awarded the "Fellow of European Board of Urology".
Registered under General Medical Council, U.K, Specialist Register in Urology - GMC # 6094946.
Mr.Varadaraj is also know as Mr.Raj (short form of Surname).
PRIVATE PRACTICE
Private Consultation & Operating sessions at
BMI The Lincoln Hospital
, Nettleham Road, Lincoln, LN2 1QU.
Private Consultation, Investigations, Operations provided

Consultations for Prostate Problems, testicular pain, elevated PSA blood test
Bladder cancer, followup & investigations
Bladder tumor resection endoscopic (TURBT)
Blood in Urine investigations
Bladder Stone treatment

Botox Injection into Bladder muscle
Catheter removal after urinary retention (trial without catheter)

Circumcision (adult) under Local and General anaesthesia
Consultation & Investigations for blood in urine
Consultation & Investigations for problems passing
water/urine (BPH, stricture etc)
Cystoscopy rigid / Cystoscopy flexible (telescopic examination of bladder)
Epididymal cysts (scrotal) surgery
Hydrocele surgery
Incontinence issues

Prostate endoscopic operation (TURP)
including GYRUS TURP
Urological cancer consultation

Vasectomy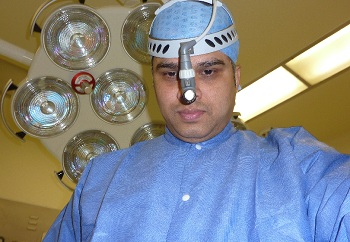 NHS - CONSULTANT UROLOGIST IN ULHT


Mr.Haradikar Varadaraj started working as Consultant Urologist in United Lincolnshire Hospitals Trust (ULHT) from 2009 onward.
Special interest is in the field of Urological Cancer & Surgery, Laparoscopic Urological Surgery including Nephrectomy (Kidney Removal) & Pyeloplasty, endoscopic urinary tract stone management with lasering of stones, Core Paediatric Urology.

Currently Mr.Raj works primarily at Lincoln County Hospital with 2 sessions at Louth County Hospital. All major urological cancer operations in the firm including referrals from Boston, Grantham & Louth are done at Lincoln County Hospital.
Involved in British Association of Urological Surgeons national audit of Laparoscopic Kidney removal surgery (Nephrectomy). Individual outcome data published as per Department of Health requirements. This shows good comparable results with national outcomes despite the average risk profile of patients operated being higher.
European Association of Urology
British Association of Urological Surgeons
Royal College of Surgeons of Ireland
General Medical Council, UK
Hospital Consultants & Specialists Association